Phylogeny of zoonotic parasites in fresh and brackish water fish in Vietnam
Phylogeny of zoonotic parasites in fresh and blackish water fish in Vietnam Trematode metacercariae were examined from 5 fish species (striped catfish Pangasianodon hypophthamus, climbing perch Anabas testudineus, goldfish Carassus auratus, greater lizardfish Saurida tumbil, and mullet Mugil cephalus by morphological and genetic characters. A total of 14 trematode ...
Isolation, identification of luminous Vibrio in diseased cultured common seahorse (Hippocampus kuda)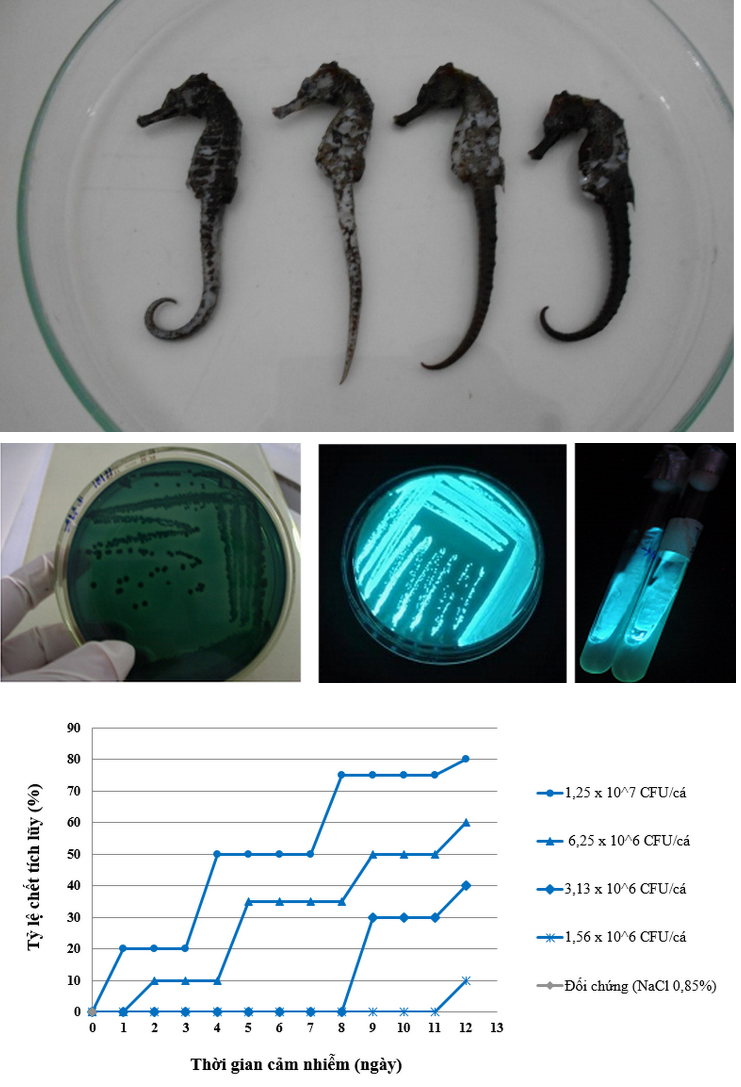 Seahorse (Hippocampus spp.) are economically valuable species and are used in traditional medicine. In Vietnam, seahorse cultivation has been recently developed in some regions namely Khanh Hoa, Ninh Thuan, Hue, Da Nang and Vung Tau. Some seahorse farms in Khanh Hoa are now facing problems with unknown disease occuring in common seahorses (Hippocampus kuda Bleekers 1852). In the present study, luminous bacteria were ...
Phylogenetic relationship of giant clams (Tridacna spp.) collected in the South and Central coast of Vietnam
Giant clams (Tridanidae) are one of the high value marine mollusks in Vietnam. A total of 4 species were collected along Vietnamese coast (Vân Phong Bay and Con Dao Island). Bayesian Inference, Maximum Parsimony and Maximum Likelihood tree were constructed based on different mitochondrial genetic molecular marker, 16S and CO1 mtDNA gene from T. crocea, T. squamosa, T. maxima, Tridacna sp., and several sequences ...
Feeding mode of cone snail (Conus spp.) and phylogenetic relationships
The Conus snail (Gastropoda: Conidae) distributes mostly in warm tropical seas and are considered asprecious pharmaceuticals. The aim of this study is to determind the association between the feeding mode and phylogenetic relationships of cone snail, Sequences of gen CO1 mtDNA of present cone snail (25 species) were combined with 19 sequences from Genbank to construct a phylogenetic tree using three analysis methods ...
Identification of cone snail (Conus spp.) in the coastal Central Southern Vietnam based on morophologic and gennetic chacracters
Cone snails (Conus spp.) comprise about 500 -700 known venomous, camivorous species, distributed in tropical and warm waters and is considered asource of valuable drug. The current study combined morphological and genetic characters to identify some Conus species, which having unclear taxonomic status. Six species were catrgorized under three groups of confusing characters: C. marmoreus and C. bandanus; C. leopardus ...